I'm really excited to be featuring another handmade artist here to the spacefem friends
This month's pick is Emma from
LamplighterJewelry
: artisan jewelry that mixes urban and natural themes into pieces that are truly one of a kind.
She will be giving away this AMAZING cuff bracelet to one lucky winner!Entry details are below:
Large Cuff Bracelet - Metalwork - Leather - Pearl and Bloodstone
by
LamplighterJewelry
Tell us a bit about yourself
Hi, I'm Emma, I'm originally from Wales, U.K but have lived in the States (Virginia) since 1991. The mountainous regions of Virginia remind me of Wales and I love that connection between my past and my present. I am personally driven with a yearning to explore many avenues in life and see life as an adventure, where I am a treasure hunter always seeking and searching. I am drawn to natural beauty and find magic and wonder all around me, from the intricacies of a skeleton leaf, water crashing against rocks, gnarly beach pebbles, driftwood, architecture, human nature, vulnerability and imperfection.
The youthful exuberance of my daughter Rhiannon and the boundless curiosity of my daughter Genevieve remind me of my childhood and how I spent countless days searching the garden for fairies, building birds' nests, climbing mountains and trees, utilizing the things around me to imagine and create. I return to that place when I sit down and form a piece of jewelry.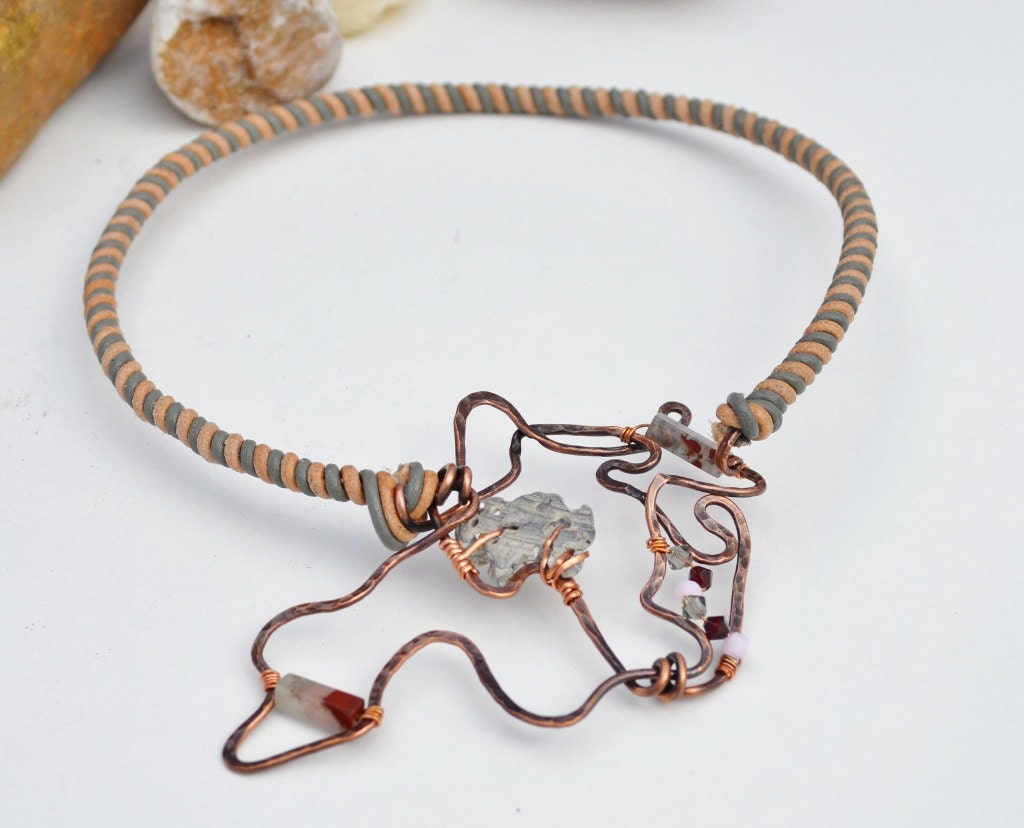 May 13th, 2012 - 30th place
Bold Metal Necklace - Oxidized Copper - Bloodstone - Beach Pebble - Crystal - Leather Wrapped Choker
by
LamplighterJewelry
I began making jewelry in 2001 as a means of expressing myself in my own personal way. As a jewelry artist I am self taught for the most part. My style leans towards the free-form artsy flow with an earthy element and the uniqueness of my work stems from being raised in an environment where being different and finding your own voice was encouraged.
My husband John is a formerly trained artist and he is a true perfectionist. I had been married to John for ten years before I realized I had any artistic talent. I think his work, sense of individualism and work ethic have influenced both my style and the creating and finishing sides of my handcrafted jewelry and I value his input even now…ten years into making jewelry.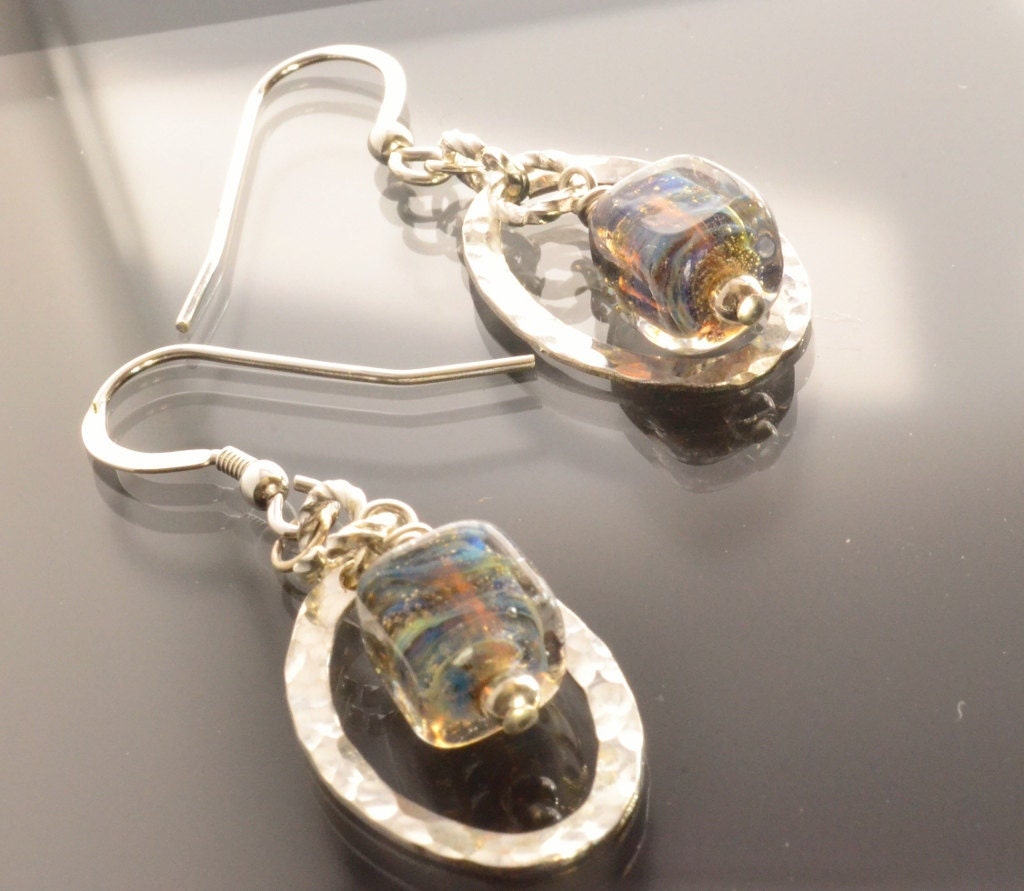 May 10th, 2012 - featured
Blue Glass Earrings with Sterling Silver
by
LamplighterJewelry
I have a lot to say and I like to say it, whether through speech, in writing or visually through my jewelry.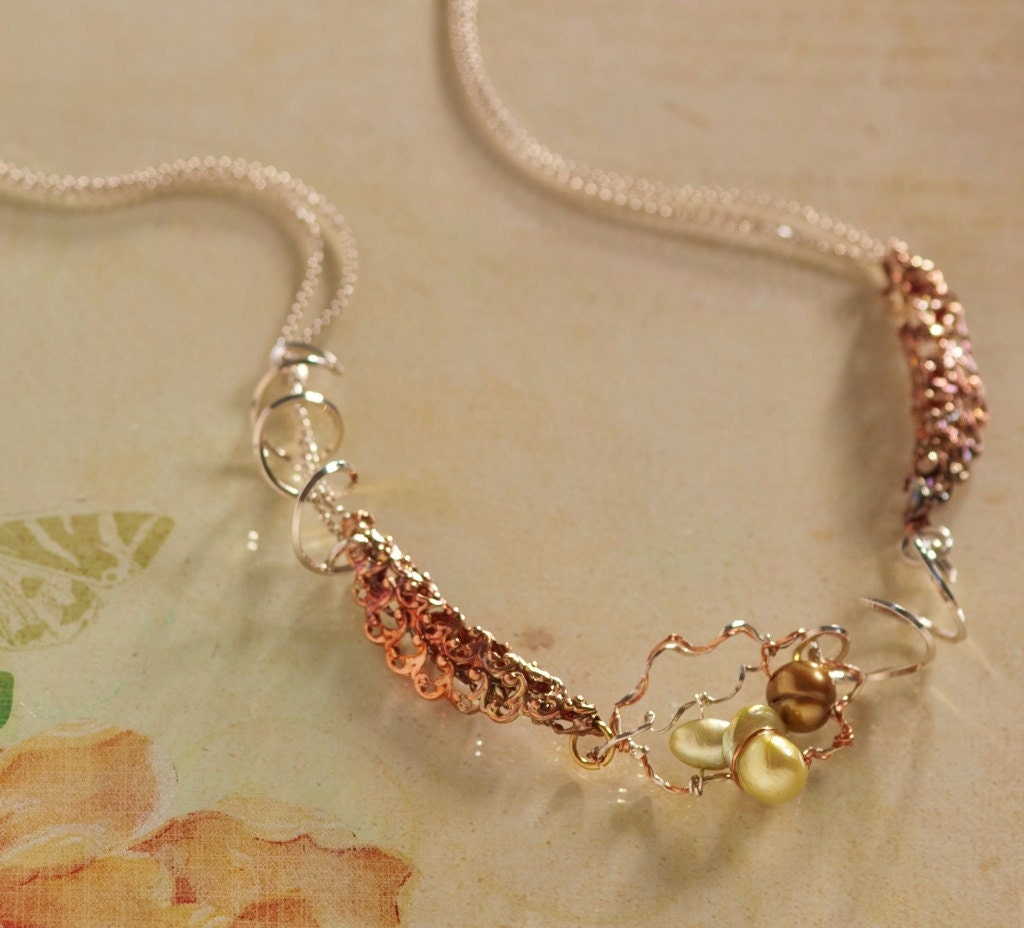 Feminine Necklace - Metalwork - Sterling Silver - Copper - Cultured Pearls and Sterling Chain
by
LamplighterJewelry
What got started creating handmade jewelry?
My friend Kate got me started creating handmade jewelry. She had a party at her home and showcased some beaded necklaces and bracelets she had made. I was amazed and impressed and felt the challenge to see if I could make jewelry too. I know, I know, I'm an extremely competitive person
Anyway, I bought a few beading kits, tried a few necklaces and loved the results. I've never looked back.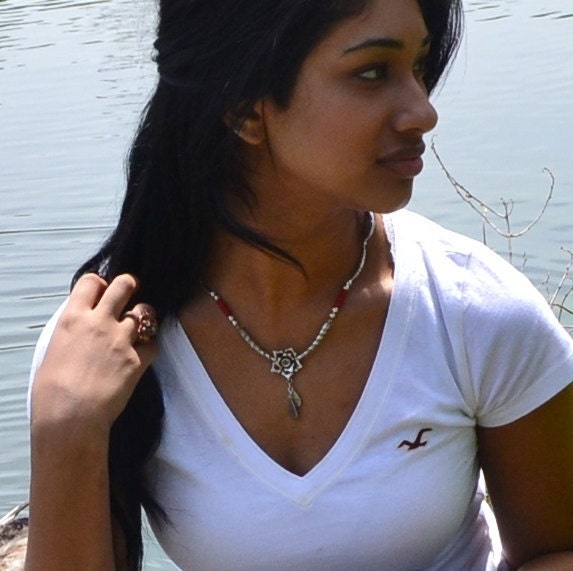 Hill Tribe Silver Necklace - Silver Rose - Bold Red Coral - Crystal
by
LamplighterJewelry
What got you to open your shop on etsy?
I commented on a necklace a good friend of mine was wearing and she said she'd purchased it off Etsy and suggested I open a store. That was the first I'd heard of Etsy and I'm so glad she did.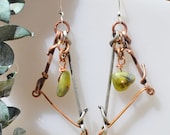 Metal Dangle Earrings - Fun and Bold - Green, Copper and Silver
by
LamplighterJewelry
What inspires you?
I am inspired by many things, from my surroundings, found objects, places I visit, memories, but it's the materials themselves that speak to me and dictate the outcome of the piece. This is especially true when I work with metal and wire. When I worked on my Spring Collection I started with a blank slate – no design in mind, no direction, no idea where I was going. I just let my hands and the copper wire work together, bending, twisting, coiling, working the wire by hand and with my needle nose pliers in tight spots. The freedom to create without a preconceived idea was exhilarating, but the best part was the outcome. Every shape is different, the patinas are different, the stones and pearls used in each piece are different and I love every piece.
Successes such as these and also failed attempts inspire me to keep going, to explore new techniques, new materials, new designs.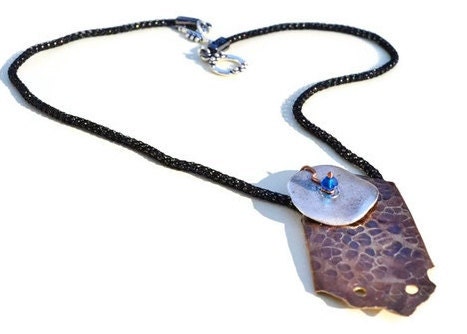 Metal Pendant Necklace - Brass - Black - Knitted Wire Chain
by
LamplighterJewelry
Have you bought anything cool off etsy lately?
Last week I bought some black mustache cupcake toppers for my older daughter as she loves baking cupcakes and she has a fetish with mustaches. She's thrilled with them.
Tips for other etsy artists?
Patience, participate in your team threads, keep adding items to your store, tweak your titles, tags and descriptions regularly and keep a positive attitude.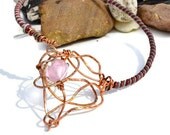 Wire Wrapped Necklace - Copper - Leather - Sterling Silver - Glass
by
LamplighterJewelry
Contest Info
You must complete two steps to enter:
First
, favorite her shop on etsy:
etsy.com/shop/LamplighterJewelry
Second
, let us know! Pick any way you choose, one entry per person:
1) Follow the etsycontest.com blog & leave a comment here:
http://etsycontest.blogspot.com/2012/05 ... eaway.html
Be sure to include your etsy profile link so we can contact you!
2) Post a twitter status update that mentions something like "Entering to win an artisan bracelet by LamplighterJewelry from
http://spacefem.com/t/45112
" - just be sure to include her shop name and the contest URL.
(we'll even write the tweet for you, click here)
3) Reply to our contest thread on our Facebook page:
http://www.facebook.com/pages/Spacefem
4) Reply to this happy forum thread here at spacefem.com. Type the word "Entry" so I know you want in, then skip a few lines, and say whatever praise and coolness you want to say.
Must enter contest by May 23rd and winner will be announced May 24th! If selected as a winner you'll be asked for your Etsy account so we can verify that you favorited her on or before the 23rd.You will have six days to claim your prize.At least 10 people must enter for giveaway to happen, and after 100 entries the contest will end regardless of date. Winners can be from anywhere in the world. Okay, go!