As per a suggestion, this thread gives instructions for the creation of a chess cake like the one found
here
.
Before I begin, let me just strongly praise the
Home Cake Decorating Supply Co.
at 9514 Roosevelt Way NE (in seattle). Anyone in the Seattle area who wants to make a cool cake should go here. They have tons of stuff, and the lady in charge is very knowledgeable. Credit where it's due, I would not have used Fondant or molding chocolate if I hadn't gone here. She literally had everything I needed.
Now that that's out of the way, I'll list the components in the order that I made them:
<u>Chess Pieces:</u>
You can usually find molds for chess pieces at cake supply stores. Here's what one of mine looks like. I got two of these and one made entirely of pawns (not pictured):
Molding chocolate is probably available at the same store. I got both dark and white varieties: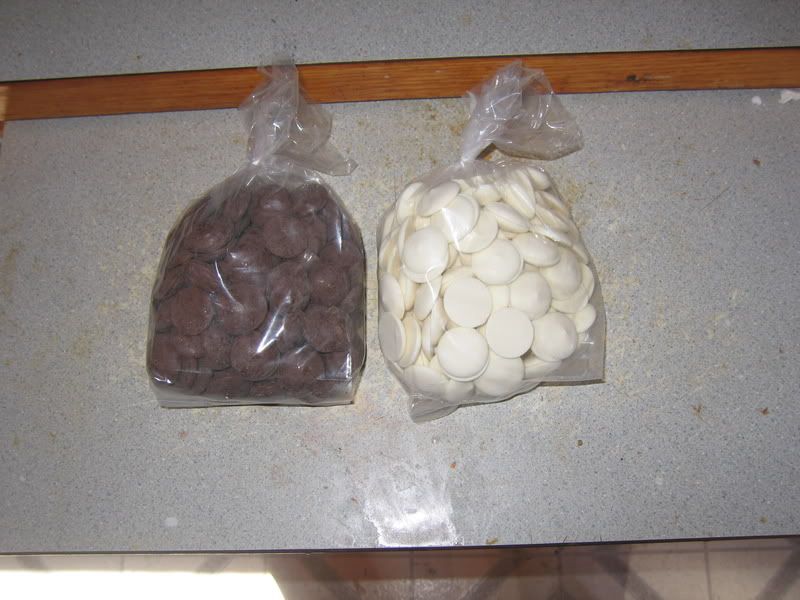 There are a few ways to melt the molding chocolate. You could put it in the microwave oven or on the stove top, but I decided to play it safe and use the double boiler method. (Really sorry, but I didn't get a good picture of the setup here)
Place the chocolate to be melted in a (preferably stainless steel) bowl. Now fill an electric skillet with water and set it to a little below simmer. The idea is to make the water hot but not boiling. Place the bowl into the warm water. I had a bowl sitting on top of a pot holder so that it wouldn't slip. It will take a while for the chocolate to melt this way, so by all means walk away for a few minutes. Stirring helps all of it melt faster, of course.
Now, once the chocolate is melted, drop it into the molds with a spoon. It's probably easier to use a squeezebottle if you have one (I didn't). Tap the mold against the counter to help the chocolate settle into the molds. If you totally screw up and chocolate gets all over, just scrape the excess off with a knife - no worries. That's what I did here:
Once the mold is filled, place it in the fridge for a few minutes. Mine fully hardened after 10 minutes, though I probably could have taken them out a lot sooner.
With a little flexing and tapping, the hardened pices should drop right out.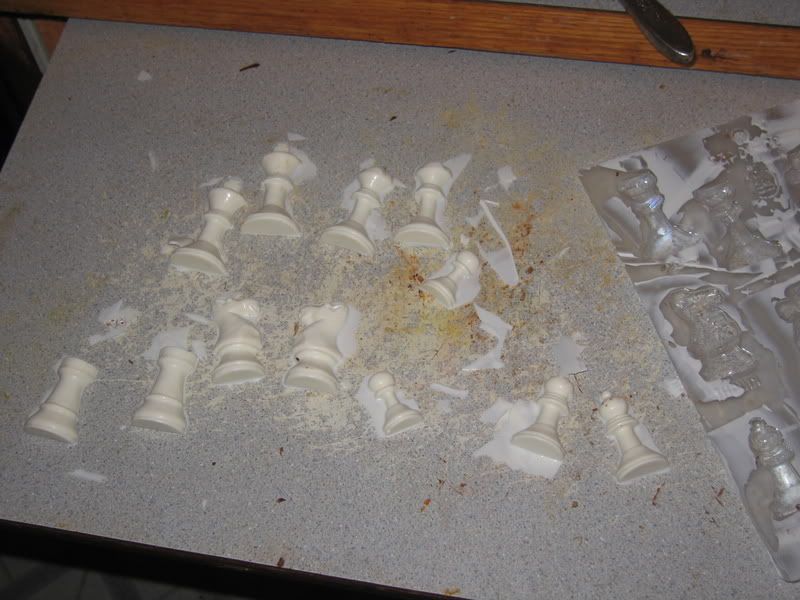 Now we need to trim all of those little flat edges off (I tried to get an action shot of me trimming, but it turned out really blurry). You can go all OCD and try to trim all of the ridges off, OR acknowledge that you'll eat it anyway so it's okay if it's not perfect.
Now, you may have noticed that the mold gives us two half-pieces. We need to stick these together to get a complete piece. Putting them together is quite simple, actually. Take the two halves you want to put together and apply a small amount of molten chocolate to the back of one half using a fine tool (I used a chopstick
). Now, stick the other half to it. It will work just like glue. Once they were all stuck together, I put them in the fridge for a little bit to help them set, since I was paranoid of them falling apart.
After doing that for both dark and white chocolate, you should have more than a full set of pieces. Here, some plastic chess pieces check out their newly-made, edible cousins.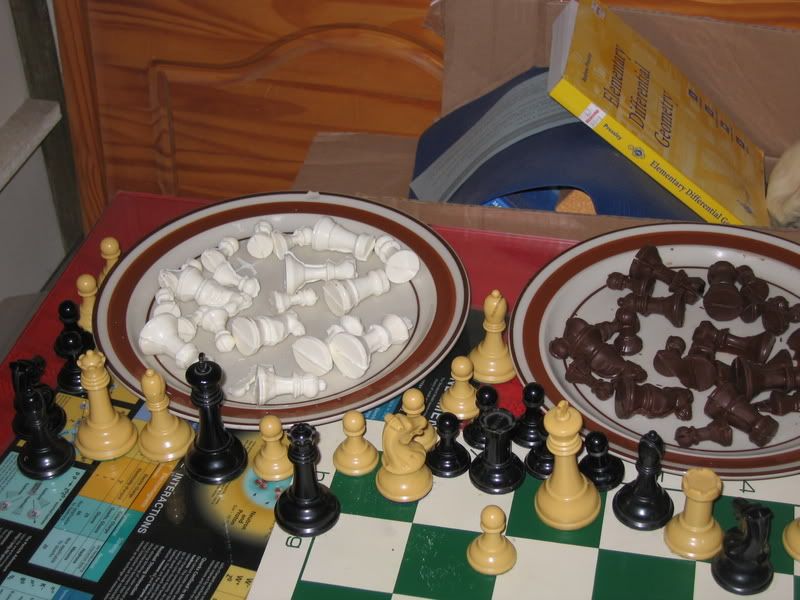 The cake itself:
I used a chocolate cake recipe from an old cookbook. I can write it up, if anyone wants it. It was made for two 8 to 9 in circular pans, but it was perfect for a 13 x 9 inch pan.
Nothing smells better than chocolate cake...
I made two of these, and layed them side by side in the final cake.
Frosting:
I simply used
this recipe
and added a couple drops of blue food coloring.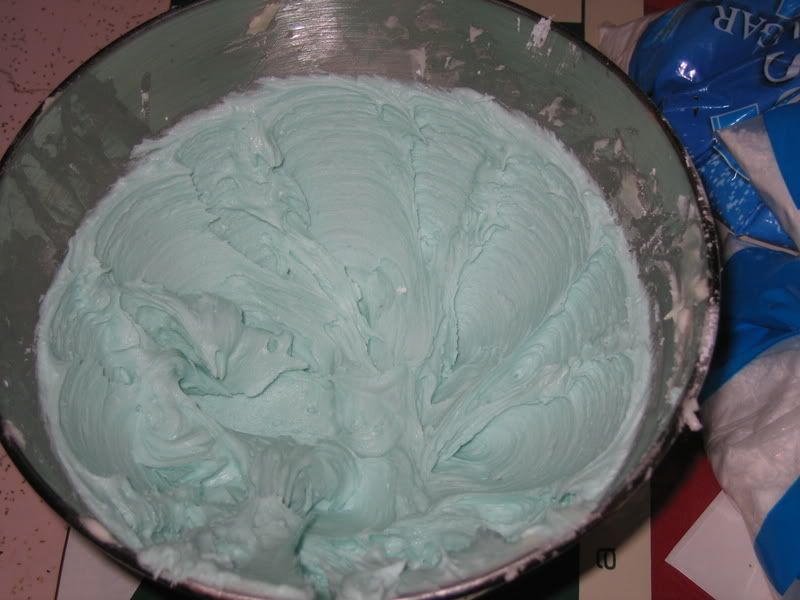 (I needed two batches worth of that)
Fondant:
OK, now this was the part that was really new to me. Fondant is simply water and sugar, cooked to the soft-ball stage, and then violently stirred so that the sugar forms lots of small crystals. It sort of has the consistency of dough, and it can be rolled out in the same way. From the cake supply store, I got both white (normal) and dark (chocolate-flavored) fondant.
Take a small chunk of fondant:
Roll it out: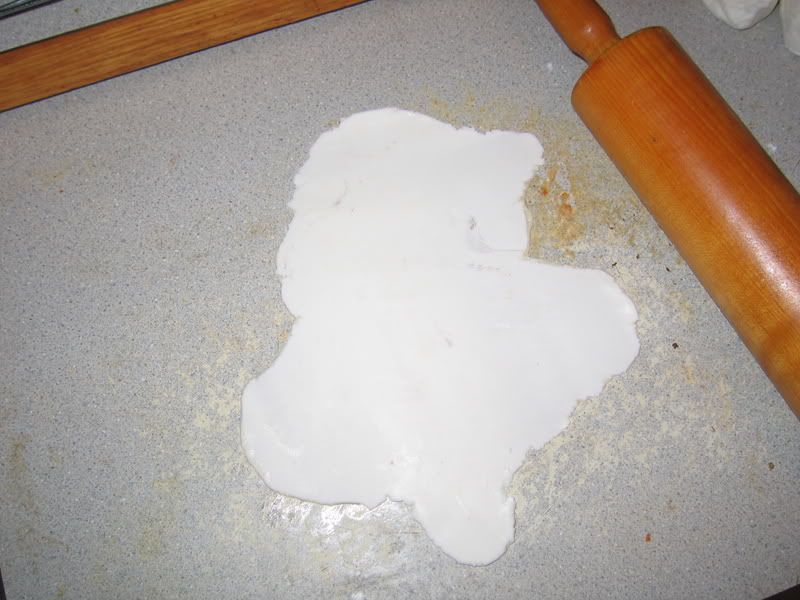 Now cut out a rectangle. (If you're mathematically inclined like me, turning this into an optimization problem is fun
)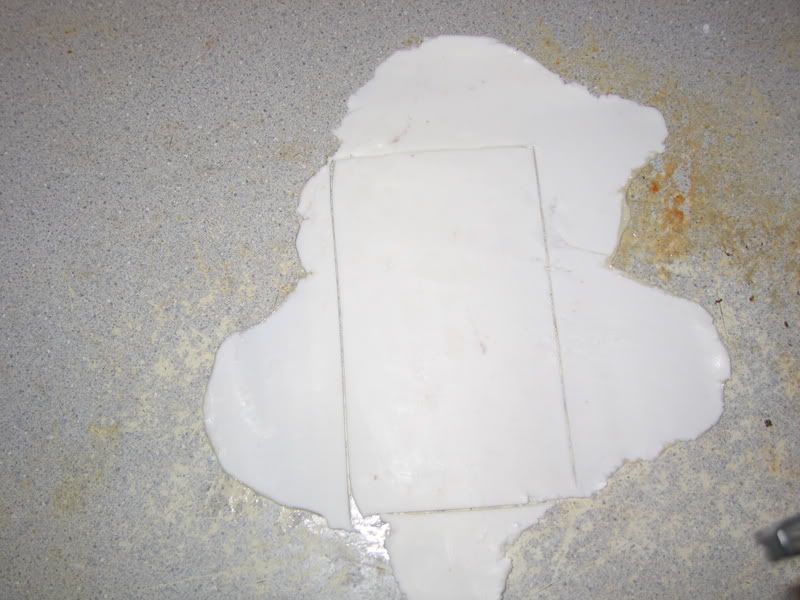 Measure off the side lengths of your squares. I was using squares with a side length of 1.5 inches
And cut: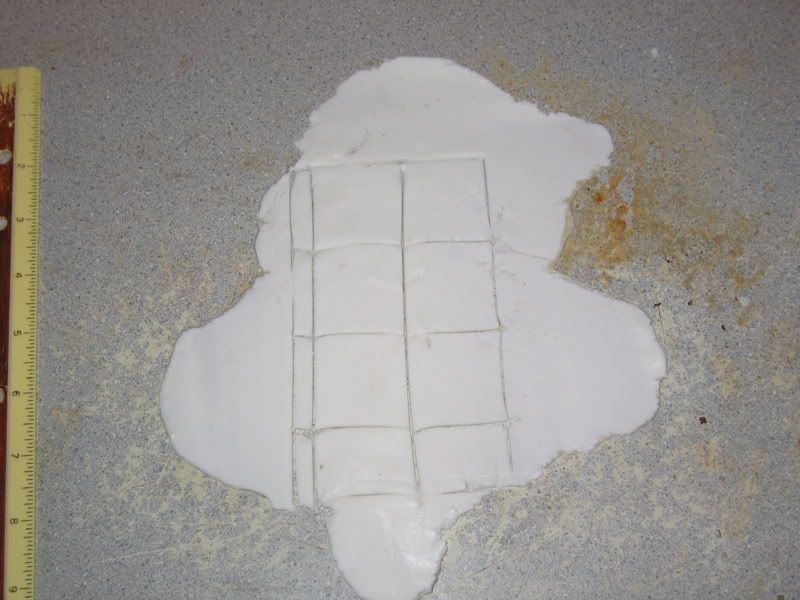 Repeat as many times as needed. (A chessboard has 32 squares of each color, for the record)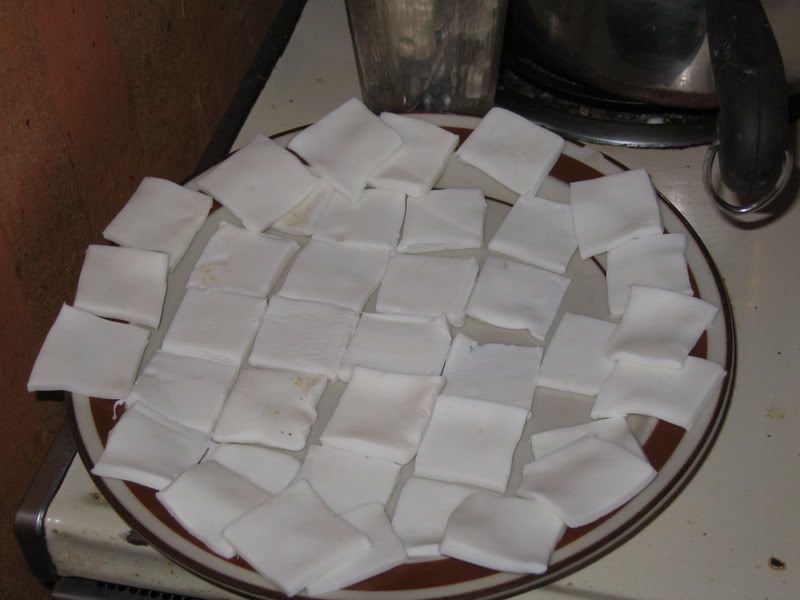 It's okay if your fondant squares aren't perfect - they can be adjusted later. If you find the fondant is sticking to the surface you're working on, simply grease the surface. Be careful about using flour or sugar. Apparently, they have a tendency to dry out the fondant.
Assembly:
Take the two cakes, place them side by side, and frost them: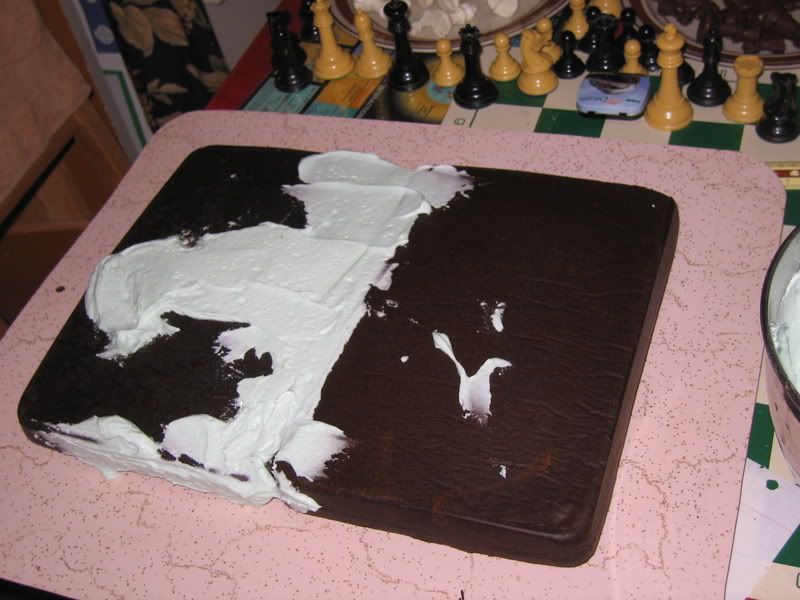 Now, find the middle, and lay the four center pieces down. It's really important to get these right, since everything else will be built around them.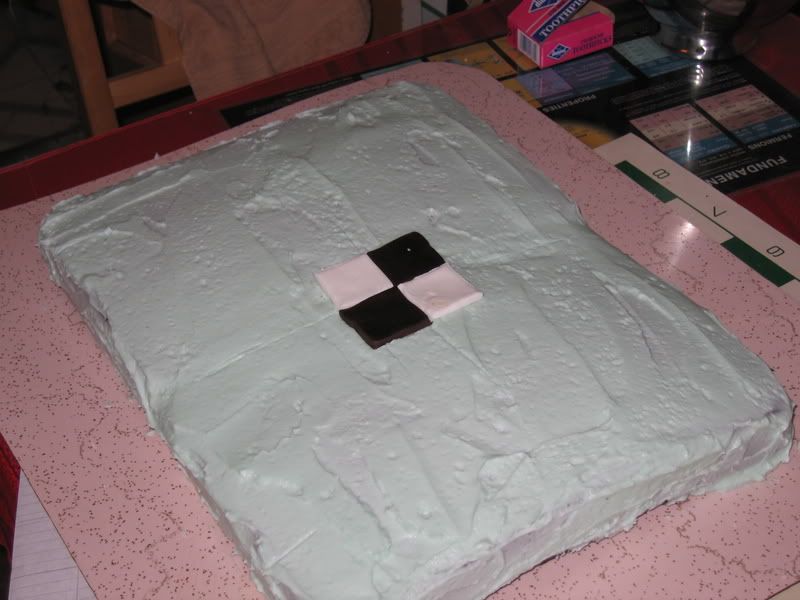 Lay out the remaining squares. I found it easiest to move out in a spiral pattern around the first 4. I had to trim a few squares to make them fit well.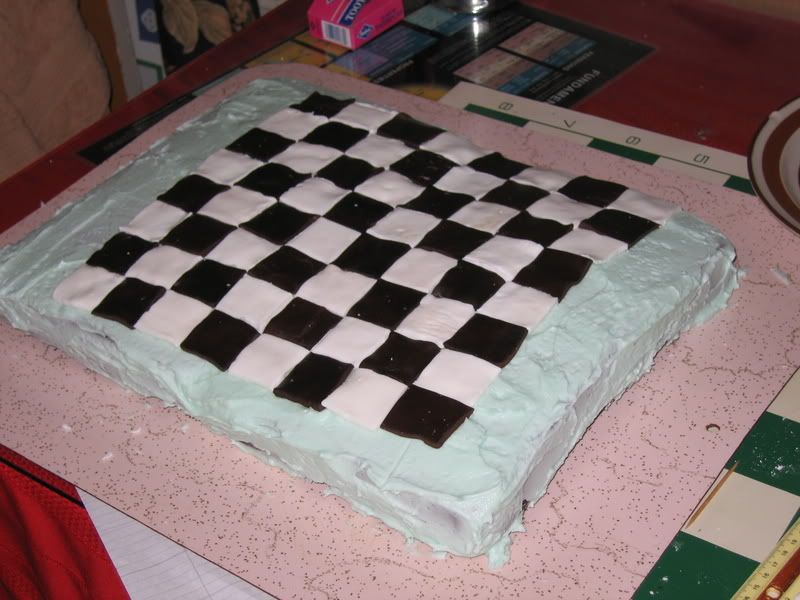 And there's your board. Now you only need to place your pieces on. Put a small dab of frosting on the bottom of the piece to serve as glue and place it where you want it. Stylistic thought should be given to the chess position you want. Mine is the final position from Deep Blue - Kasparov 1996: The first time a computer defeated a reigning world champion with normal time controls. And there you go: