Not sure if anyone else has been following this so I will just give you all a quick run down. American Apparel recently announced a contest which they dubbed "The Next BIG Thing". This contest was used to find a plus-sized model for their plus size expansion on
over 10
(that boast is taken directly from the website)styles. Nevermind they are only going up to a size 14, which falls into the size that an average of American women currently wear and never mind that all of the advertising for the contest used mocking and ridiculous language(also nevermind that this new plus size model was only winning a photo shoot and not going to regularly appear in AAs ads, or be payed or...anything really)Anyway, I am sure we have discussed AA here in the past and their lovely attitude towards and treatment of women. Thank goodness for Nancy Upton, who decided to make this entire contest a satire of itself and actually manage to win the damn thing, to boot. Of course AA reserved the right to pick someone they thought would be a good brand ambassador, so even though Nancy won by popular vote, someone else was awarded the prize. It still does not fail to make me feel all warm and fuzzy about the power of the internet and the sheer creativity, wit and general pizazz of Nancy Upton, herself.
"My Name is Nancy Upton. I am a size 12 and wanted to show American Apparel my fresh face and full figure. My good friend Shannon Skloss came over to take some "booty-ful" photos of me... but I just couldn't stop eating."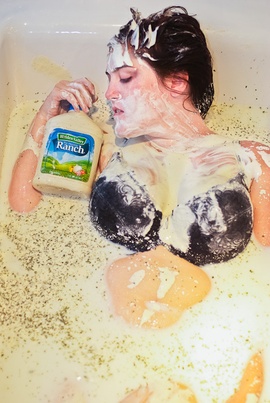 American Apparel has since offered to fly Nancy out to their setup in LA so she can see what it's really like to work there as they feel that she somehow got the wrong impression. Nancy agreed as long as she can blog about her experience.